Opayemi family sues Connecticut school after daughter banned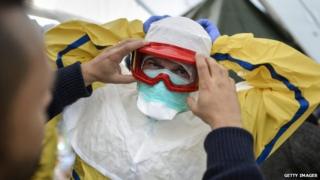 A man in the US state of Connecticut has sued after his daughter's school barred her from attending amid fears she may have been exposed to Ebola.
Ikeoluwa Opayemi, seven, who visited Nigeria with her father this month, was told to stay home until November.
Nigeria has had no new cases of Ebola since late August, and the family says the ban was a response to panic.
Meanwhile, the Pentagon has ordered US troops deployed to Ebola-hit countries in Africa quarantined for 21 days.
Ebola has killed roughly 5,000 people out of about 13,700 cases, with all but 27 cases occurring in the West African countries of Liberia, Sierra Leone and Guinea.
The virus is only spread through close contact with the bodily fluids of an ill Ebola patient.
For American healthcare workers potentially exposed to the Ebola virus in one of those countries, the US Centers for Disease Control and Prevention (CDC) has recommended active monitoring of their symptoms by a local health department upon their return, but not a full quarantine.
President Barack Obama has warned against overreaching quarantine measures, after three states ordered quarantine for such health workers.
The president on Wednesday met US health workers who have worked in West Africa, lauding them as "American heroes" who were keeping the country safe by tackling the disease at source.
Meanwhile, on Wednesday US Defence Secretary Chuck Hagel ordered all US troops returning from Ebola response missions to be kept in supervised isolation for 21 days. Mr Obama has suggested it is appropriate to treat the soldiers differently from civilian health workers, in part because soldiers are not there by choice.
In Connecticut on Tuesday, the Opayemi family filed a lawsuit in federal court seeking Ikeoluwa's immediate return to Meadowside Elementary School, plus monetary damages.
---
Nada Tawfik, BBC News
Stephen Opayemi says his healthy daughter is battling discrimination and ignorance from parents and school officials who are letting fear and rumour cloud their better judgment. The reality is that worries about the disease have caused some local and state officials, even universities, to ignore federal guidelines based on science, in the name of placating public panic.
Mr Opayemi's daughter has no symptoms of Ebola, never came in contact with anyone who has Ebola, and Nigeria itself has been declared Ebola-free.
Her father says she is suffering emotional distress and he now worries about her confidence. She may not be one of Ebola's direct victims, but she is now a casualty of the stigma surrounding it.
---
Ikeoluwa's father Stephen Opayemi is a native of Nigeria, and the family attended a wedding there from 2-13 October.
Nigeria has had no new cases of Ebola since late August, and US health officials say anyone who travelled there after September is not at risk for infection.
Upon their return to Connecticut, the family was told by Dr Dennis McBride, a Milford health official, to keep Ikeoluwa out of school until 3 November because teachers and students were concerned she could transmit Ebola, according to the lawsuit.
Meanwhile, a nurse who returned from treating Ebola patients in Sierra Leone has said she will no longer co-operate with a voluntary quarantine order.
Kaci Hickox was briefly held in quarantine in New Jersey after landing at Newark International Airport last Friday. After showing no symptoms of Ebola she was flown back to her home state of Maine and placed under quarantine there.
"I remain appalled by these home quarantine policies that have been forced upon me even though I am in perfectly good health," Ms Hickox told US media.
The state of Maine is seeking the authority to make the quarantine mandatory.