Four dead in Wichita as plane hits Kansas airport building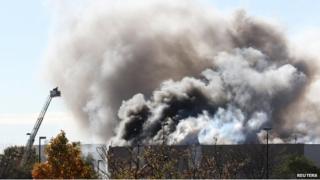 At least four people were killed and five injured when a small plane crashed into an airport building in Wichita, Kansas, officials have said.
Firefighters responded at about 09:50 local time (14:50 GMT) to a "horrific fire" after a plane crash-landed, Fire Chief Ron Blackwell said.
Four people remain missing, but a search was put on hold after a portion of the building collapsed.
The Beechcraft aircraft lost power shortly after take-off.
"We understand that this is a very difficult time, especially for folks who have family members who are working out here and they don't know," said Wichita Fire Marshal Brad Crisp.
The aircraft hit the FlightSafety International building. Other flights have not been affected.
Three of the dead were reportedly inside the building during the crash, while a fourth body - believed to be the pilot - was later found on the roof, another fire official said.
One of the five people injured in the crash is currently listed in serious condition at hospital.
Federal Aviation Administration (FAA) spokesman Tony Molinaro told local media the plane crashed while attempting to return to the runway.
Following the crash, an FBI spokeswoman said it was too early to rule out anything regarding the cause of the incident.
Eyewitness Jaison Podkanowicz told the BBC he was at work nearby when he heard a "low pop".
"I went outside and there was a plane on top of the building opposite, a flight training centre," he said.
Mr Podkanowicz said the plane no longer had a cockpit but that part of the fuselage and tail was intact.
Another witness, airport worker Jay Boyle, told US media "you could actually see the aircraft landing gear through a hole in the building".