US researcher Robert Ferrante guilty of poisoning wife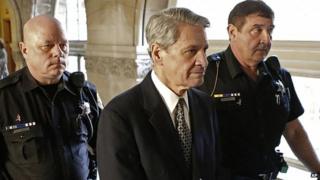 A US neuroscientist has been found guilty of murdering his wife by lacing her energy drink with cyanide.
Prosecutors said former University of Pittsburgh researcher Robert Ferrante concocted the plan to kill Autumn Klein after she pressured him to have a second child.
Ferrante now faces a mandatory life sentence.
Ms Klein's relatives burst into tears upon hearing the guilty verdict in the Pittsburgh court.
"Justice for Autumn," said her mother, Lois Klein, outside the court.
The jury deliberated for 15 hours over two days before finding Ferrante, 66, guilty of first-degree murder.
Ferrante hung his head when the verdict was read out.
Police said Ferrante had given the supplement to his wife on 17 April 2013. She died three days later.
Prosecutors described him as a "master manipulator" and said he may also have acted out of fear that she was having an affair or was planning to divorce him.
Ferrante had denied poisoning his wife, saying he had bought the cyanide for stem cell experiments.
Police said Ferrante used a university credit card two days before Ms Klein fell ill to buy more than 8oz (220g) of cyanide.
His lawyers made the case that Ms Klein, 41, might not have been poisoned at all, citing three defence experts who said poisoning couldn't be conclusively proved.
The prosecution, however, maintained that a test on Ms Klein's blood had revealed a lethal level of cyanide.
The blood was drawn while doctors tried for three days to save her life, although the results were not known until after she had died and her body was cremated.