Thomas Duncan family settles with Texas hospital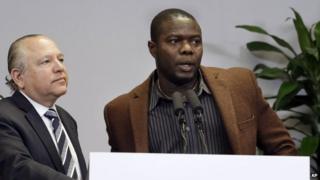 The family of the only patient to die of Ebola in the US has received an undisclosed sum from the hospital that treated him, their lawyer has said.
Officials at Texas Health Presbyterian have admitted their mistake when they sent Thomas Eric Duncan home despite his symptoms and travel history.
Lawyer Les Weisbrod said the sum was a "very good deal" and would provide for Duncan's parents and his four children.
A foundation in his name will also be set up to fight Ebola in West Africa.
In a statement, the hospital said it was "grateful to reach this point of reconciliation and healing for all involved".
The settlement ends the threat of a lawsuit from Duncan's family.
Duncan went to the emergency room in late September a few days after arriving in the US, but was sent home with antibiotics, despite telling health workers he was visiting from Liberia.
He returned four days later and was put in an isolation unit. where he received an experimental treatment but later died.
Two nurses who helped take care of Duncan in hospital were infected with Ebola, but both have recovered. His family was not infected.
Duncan's nephew, Josephus Weeks, credited the hospital for moving quickly to settle the case and for acknowledging their mistakes.
"I believe this facility is an outstanding facility," Mr Weeks said. "It's how you recover from an error that makes you who you are."
Louise Troh, Duncan's fiancee, will not receive anything in the settlement, Mr Weisbrod said.
The quick resolution also benefits hospital firm Texas Health Resources, who saw patient visits plummet after their mistakes handling Duncan's case were revealed.
Visits to Presbyterian's emergency room fell more than 50% during the first 20 days of October, and the hospital's overall number of patients fell 21%.
The disease has now killed more than 5,000 people, mostly in West Africa, as the rate of transmission has slowed in some parts of Liberia but picked up elsewhere in West Africa.
Cumulative deaths up to 11 November
*Figures are occasionally revised down as suspect or probable cases are found to be unrelated to Ebola. Figures for Liberia, Sierra Leone and Guinea up to 9 November, while those for Mali, Nigeria and the US up to 11 November.