PJ Crowley: What Hagel's exit means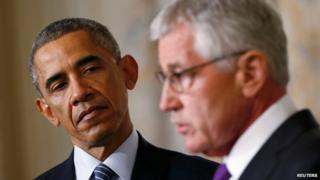 When a United States secretary of defence offers to resign, it is a big deal. Only 24 men have occupied the office since it was created in 1947. When an American president accepts the resignation after less than two years on the job, there is a larger message.
By every indication, Secretary of Defence Chuck Hagel volunteered to step down and President Barack Obama did not try to talk him out of it. So what is behind the move?
It is important to stipulate upfront: this is a gruelling position, arguably second only to the presidency in degree of difficulty within the US government.
The US military is the largest enterprise in the world, with almost four million active duty, reserve, National Guard and civilian personnel operating every day in every corner of the globe.
The job is even tougher in a time of war. The secretary of defence signs the orders deploying units to warzones, offers condolences to families of those who are lost on the battlefield and visits soldiers recovering from wounds whose lives are forever altered by their combat experience.
He accepts responsibility when something goes wrong and innocent civilians are killed. Such life-and-death matters take their toll.
Mr Hagel's departure does not appear to involve major disagreements over strategy and policy.
He was leading the Pentagon through a period of significant transition as the Obama administration attempted to reduce both the size of the military and the burden on a force that had faced near-continuous combat operations and major deployments for more than two decades.
He was working with other Nato leaders towards the end of combat operations in Afghanistan and strengthening the response to a revisionist Russia.
He was addressing new threats in Asia, in cyberspace and with Ebola. And he was managing challenges within the military, from high levels of sexual assault to low morale within its nuclear force.
Overall support
Mr Hagel was not part of the president's inner circle, but neither were his two predecessors.
Last month, he wrote a memo to the president expressing concerns about the emerging strategy regarding Iraq and Syria.
For the most part, President Obama has been charting his own course. He has been hesitant to upgrade weapons for the moderate Syrian opposition.
He accepted the removal of all forces from Iraq without a follow-on mission - and he overruled his advisers who recommended a military strike last year in response to Syria's use of chemical weapons.
But it is safe to say Mr Hagel supports President Obama's overall approach.
As a grunt who served in Vietnam, Mr Hagel understands the temptation to Americanize a war that will be determined ultimately by players inside the region, not outside.
As a former elected official and good soldier, in light of the president's stinging defeat in the recent mid-terms, he probably recognised the inevitability of a shake-up at the top and decided to leave on his own terms.
Unexpected events
If so, then why did President Obama so readily accept his former Senate colleague's offer?
Mr Hagel was not lighting the Pentagon on fire, but he was not a political liability, certainly nothing resembling the albatross that Donald Rumsfeld became for President George W Bush at a comparable juncture in 2006.
Rather, over the past six months, two events have fundamentally altered President Obama's political and policy world: Islamic State's dramatic advance across Iraq and the Republican takeover of the Senate.
The final two years of his presidency will be far different than anticipated and the president is adapting accordingly.
Approaching the end of 2014, he had expected to be winding down the war in Afghanistan, not ramping up another phase of the war in Iraq, with a new front in Syria.
This will dominate his remaining time in office and significantly shape - or revise - his foreign policy legacy, just as the surge did for Mr Bush.
Stronger voice needed
Even though President Obama has been his own strategist regarding Syria, he has made no secret of his discomfort with the current state of play.
The broad policy parameters are established — no American combat boots on the ground, more inclusive Iraqi governance, degrade Islamic State sooner and build up regional forces to defeat it later.
He is looking for a new defence secretary who can translate these elements into a coherent strategy that delivers better options and tangible results.
John McCain, whom Mr Obama defeated for the presidency in 2008, assumes chairmanship of the Senate Armed Services Committee in January.
He has been highly critical of the Obama administration's policies on Syria and Ukraine.
President Obama will require a stronger public voice on defence matters than the self-effacing Mr Hagel, particularly given the reality that the policy payoff for these crises will be measured in years rather than months.
In sports, when an owner is unhappy with events on the playing field, the first change is usually the coach.
The policy skill set that Mr Hagel's successor brings to the job will say a lot about what President Obama hopes to accomplish between now and 2017.