Snow snarls up US Thanksgiving getaway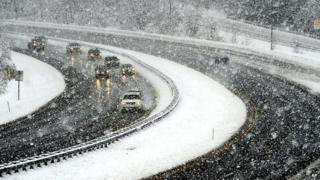 Snowy weather along the US east coast has disrupted one of the busiest travel days ahead of the country's Thanksgiving holiday.
More than 600 flights were cancelled and thousands delayed by a winter storm which brought snow, sleet and rain.
As much as 12in (30cm) of snow was due in the heavily populated north-east, forcing people to change travel plans.
More than 46 million Americans are expected to be on the move on Wednesday, mostly by car.
That would make it the busiest Thanksgiving travel since 2007, according to the American Automobile Association (AAA), with most people travelling by cars.
Snow has already begun falling in the East but New York City could see as much as four inches of snow, while between six and 12 inches is expected to fall further north.
New York Governor Andrew Cuomo activated the state's Emergency Operations Center and had 1,800 snowplough operators standing by to clear roads between New York City and Albany.
Airlines were suggesting travellers switch to earlier flights, with some dropping change fees.
One of the people taking that advice was West Point Cadet Jameson Albers, 21, who switched his New York to Nashville flight.
"I bumped my flight to an 11:30 flight to try to get in before the really bad weather hits."
Snow is also expected in Philadelphia, Baltimore and Washington DC.
Another traveller, Dan Albert, said he was hoping to beat the worst of the snowfall as he and his family drove from North Carolina to New Jersey.
"Got to see the folks. We only get to see them once a year. Got to muscle through it, right?" Mr Albert said.
---