Widespread power outage hits Detroit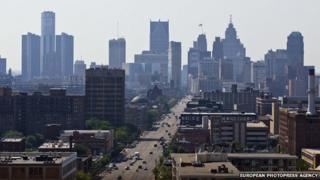 Dozens of municipal buildings, including fire departments and schools, in the US city of Detroit lost power for hours on Tuesday.
Among the 100 buildings affected are the Joe Louis sports arena, the courthouse and Wayne State University.
Power went at 10.30am but was restored to some of the buildings by the afternoon, said DTE Energy company, promising more coming back later.
A cause for the power outage has yet to be determined.
A murder trial was said to have been paused on Tuesday morning when the lights flickered and went out, the Detroit Free Press reported.
People were seen evacuating the courthouse by stairwells, while Detroit fires stations was reportedly using backup generator power.
More than 1,200 inmates at a local municipal centre were placed on lockdown, and a hospital began transferring trauma patients to other facilities.
And Wayne State University said on its website that multiple buildings on campus were affected but classes were running as normal.