US court upholds Los Angeles condom law for porn actors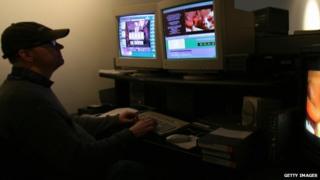 A US court has dismissed an appeal against a law requiring porn actors in Los Angeles County to wear condoms.
Adult film companies had argued that the law violates the guarantee of free expression in the US constitution's First Amendment.
The law, known as Measure B, was approved by a referendum in November 2012.
It was backed by the Aids Healthcare Foundation, which said it would protect actors from HIV.
However, porn film makers in California have insisted that safety regulations already in place in their industry protect actors from Aids/HIV.
In its ruling, the US federal appeals court rejected the First Amendment argument.
"Here, we agree with the district court that, whatever unique message plaintiffs might intend to convey by depicting condomless sex, it is unlikely that viewers of adult films will understand that message," said Judge Susan P Graber.
It is not clear if further appeals are planned.
Measure B requires condom use as a condition of receiving a filming permit and also requires film makers to apply for public health permits.
Critics of the law say that since the ban came into effect, the numbers of adult films made in Los Angeles has fallen from nearly 500 in 2012 to just 40 a year later.
They say some studios have moved production to other states such as Nevada or Florida.