Probe into elderly home fire that kills five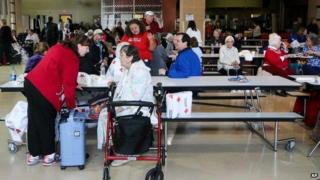 Authorities are investigating a fire at a retirement home near San Antonio, Texas that killed five residents and hospitalised 17 more people.
Officials say that about 80 other people are unaccounted for, but are likely to be with family.
The fire broke out early Sunday morning, and required over 150 firefighters to extinguish.
The cause of the fire is not known, but appears to have started on the third floor of the 11-storey complex.
Authorities are now reaching out to the missing residents' emergency contacts in an attempt to locate those who are unaccounted for.
Castle Hills City Manager Diane Pfeil said those missing may have gone home for the Christmas holiday, and were probably not in the building when the fire started.
As the fire burned, many residents were able to leave on their own but several were unable to walk and had to be carried away.
Some were removed from the upper floors by fire ladders.
"After looking at the floors, it is amazing that we did not have more loss of life," San Antonio Fire Chief Charles Hood told the Reuters news agency.
As the rescue operation took place, transport was organised to take some residents to a nearby school where a makeshift shelter was set up.
The facility's management company is organising accommodation for residents who have nowhere to go.