Senator Harry Reid injured in exercise accident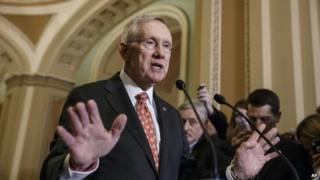 Outgoing Democratic Senate Majority Leader Harry Reid has broken several ribs and bones in his face after falling when exercise equipment failed.
Mr Reid, 75, was kept in a hospital in Las Vegas overnight as a precaution, before being released on Friday.
He is expected to make a full recovery and be in Washington when Congress reconvenes on Tuesday.
Mr Reid will become minority leader after Republicans won a Senate majority in November's elections.
The senator, a former amateur boxer, was injured at his home in Nevada when an elastic exercise band snapped, hitting him in the face and causing him to fall.
He was previously injured in 2012 after being involved in a vehicle crash on a highway through Las Vegas.