Ohio ends two-drug execution cocktail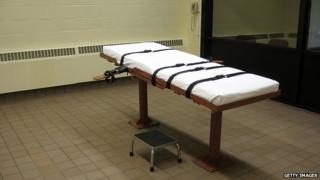 Authorities in Ohio say they will no longer use a drug combination that caused an inmate to gasp and snort during a 26-minute execution.
Future executions will use one of two approved drugs on their own.
Ohio was the first US state to use the combination of midazolam and hydromorphone, in the execution of Dennis McGuire in January 2014.
What followed was the states's longest execution. The same combination took two hours to kill a man in Arizona.
The new policy in Ohio means a dose of either pentobarbital or thiopental sodium, an anaesthetic, will be used.
At least one execution, scheduled in February, will be delayed as the state looks for a supplier of the drugs.
"All sources of the drugs permitted by the policy are being explored," said JoEllen Smith, prisons spokeswoman.
Across the US, many executions have been put on hold amid difficulties in obtaining lethal injection drugs and several botched executions.
Recognizing the reluctance of suppliers to be seen providing drugs for executions, Ohio Governor John Kasich last month signed a bill that conceals from public viewing the names of companies that supply drugs.
The new law spurred four death row inmates to sue and claim that it restricted information that could inform public debate over the death penalty.