Delay in Boston bombing jury selection rejected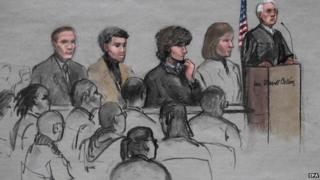 A US judge has rejected a delay in jury selection for accused Boston bomber Dzhokhar Tsarnaev, requested because of the terror attacks in France.
His lawyers argued the events of the past week have again put his case "at the centre of a grim global drama".
More than 1,300 potential jurors have filled out a questionnaire. The judge will begin questioning a smaller number of individual jurors on Thursday.
A federal judge previously rejected a defence request to move the trial.
Mr Tsarnaev, who had pleaded not guilty to all 30 charges against him, is accused of planning and carrying out the attacks in April 2013, along with his brother Tamerlan.
Three people were killed and more than 260 were wounded when two bombs exploded in the finish line of the Boston marathon
Tamerlan Tsarnaev was killed in a shoot-out with police days after the bombings.
Lawyers Judy Clarke and Timothy Watkins said there was "no modern precedent" to try to find an impartial jury in a community so recently affected by such a tragedy.
"Now, at the very moment this attempt is to be made, the Boston bombings are being newly placed at the centre of a grim global drama," they wrote, arguing politicians and others have drawn parallels between the Boston bombings and the Paris attacks.
"At a minimum, the court should pause long enough to let this latest storm subside."
The attacks came on the third day of jury selection. Potential jurors had filled out a written questionnaire to slim down those who will be called before the judge for individual questioning.
Mr Tsarnaev faces the possibility of the death penalty if he is convicted.