'No US civil rights charges' against Ferguson officer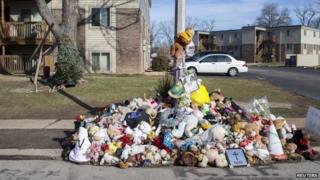 The US will not bring civil rights charges against a white Missouri officer who killed an unarmed black teenager, US media report.
Justice department officials told the New York Times, who first reported the story, the investigation had concluded.
Michael Brown, 18, was shot by Officer Darren Wilson in August, sparking nationwide protests.
A separate investigation into alleged discriminatory policing by the Ferguson police department remains open.
A grand jury decided not to bring criminal charges against Mr Wilson last year, prompting further unrest in the St Louis suburb and elsewhere.
Now it appears that investigators will not recommended federal charges either, although the decision is ultimately up to outgoing US Attorney General Eric Holder.
In order to bring federal charges, the justice department would need to show Mr Wilson intentionally deprived Michael Brown of his civil rights - and prove he used more force than the law allowed.
Experts say the standard is difficult to meet and many high-profile cases have not resulted in similar charges.
In a statement, Brown's family said they would wait for official word from the justice department before commenting.
Councilman Antonio French, who has been outspoken during the protests, told CNN he thinks many will be disappointed if no charges are brought.
"The community and the family wanted a day in court, an opportunity to see all the evidence laid out, cross-examined," Mr French said.