Huge fire razes New Jersey block of flats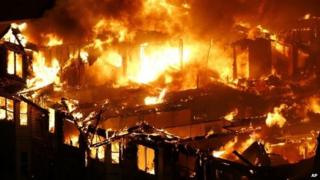 Fire officials are investigating the cause of a giant fire that destroyed an apartment building in New Jersey.
Edgewater Fire Chief Tom Jacobson said the fire started on the ground floor and quickly spread through the building on the Hudson River.
The city's mayor says about 500 residents have been displaced. Two residents and two firefighters suffered minor injuries.
The fire was still smouldering on Thursday morning.
Local media reported the fire begin at 17:00 local time (10:00 GMT) and continued to burn for hours.
Resident Hamza Abdul told the Bergen Record newspaper he was working when he got a call about the fire.
"I can't believe it," he said. "It's all ashes now."
The apartment building, across from the Manhattan skyline, also housed New York Yankees play-by-play announcer John Sterling.