Obama in India: Things to watch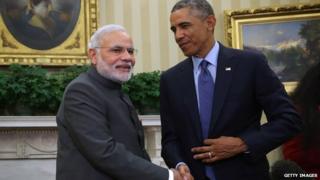 US President Barack Obama is heading for India, but will anything get done?
The White House says it's "the first-ever second trip" for a president. And it shows the value Mr Obama places on the relationship between the US and India.
Still, some are sceptical it will amount to much - or that any deals will be reached, military or otherwise.
"I don't think the Indians are prepared for anything big," said Kurt Volker, a former US ambassador to NATO. "And I don't think Obama has a clear idea of what he wants."
But US Defense Secretary Chuck Hagel told reporters on Thursday that "the president's trip may produce some tangible results".
Here are a few potential activities, official or otherwise, that could show the US's hand.
Taj Mahal
It would have been on the agenda, but it looks as if the president is curtailing his trip to fly to Saudi Arabia and pay his respects to the new King Salman.
The relationship between India and the US has changed dramatically. Years ago Indian and US officials had deep ideological differences. Many Indian officials looked more to Russia - and many did not trust the US.
As Michael Vickers, the top intelligence official at the Pentagon, told a BBC reporter earlier this week, the US-India relationship has a fraught history.
"Our interests were aligned to varying degrees in the Cold War," he said, adding that today "they're dramatically more aligned.
"The president's visit underscores the importance of that," Mr Vickers said.
Republic Day
The president will join Prime Minister Narendra Modi in the Republic Day celebrations and annual parade.
The expectation is Mr Obama will be greeted by sizeable crowds, chiming with his desire to reach out to a cross-section of people in India, not just elected officials.
Mr Obama and his deputies are planning long term - over the next 10 or 20 years - for their strategic partnership with India.
US officials hope to strengthen the role of India in the region and in this way neutralise (or "balance," as Washington says) the influence of China.
Beijing
Mr Modi's style of aggressive diplomacy, which he describes as "Act East", has shown he's willing to push back against China.
His approach to statecraft has "delighted Washington", according to Reuters, and is likely to be one subject that the two leaders can agree on.
Drones
The US and India have an agreement covering research and development of defence systems, but that accord is due to expire soon.
Mr Obama's visit to India provides a chance to discuss the issue further - and to negotiate terms for renewal.
In addition, there might be a deal, according to Reuters, on the joint production of small unmanned aerial vehicles - drones - known as Ravens.
An agreement on producing the small unarmed aircraft, as well as on other defence issues, would deepen ties between the two countries.
Environment
US officials have been concerned about environmental standards in India, which is one of the world's largest carbon polluters. Yet India's leaders say they don't need the same kind of environmental standards the US and China have adopted.
India officials say they need to focus instead on economic development, given the number of people who live in poverty, and on renewable energy, which would alleviate damage to the environment.
How officials from the two countries manage to work out their differences will help lay the groundwork for their relationship in the future.
And if things don't go well during the talks, Mr Obama and the first lady, Michelle, who will be with him in India, can always de-stress in a yoga class.