US-Cuba talks: Top US official meets Cuban dissidents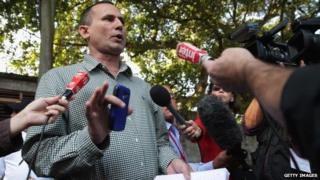 The highest US official to visit Cuba in more than 30 years has met leading Cuban dissidents in Havana.
Roberta Jacobson, the state department's top Latin American official, held the meeting after two days of historic US-Cuba talks.
One dissident called the meeting "a very human coming-together", but not all who were invited attended.
Many Cuban opposition leaders are sceptical about the rapprochement.
They fear the US will turn a blind eye to allegations of human rights abuses in Cuba.
On Thursday, officials from the US and Cuba said the talks about establishing diplomatic relations had ended "positively".
The US did not provide an official list of those who met Ms Jacobson at the mansion of the head of the US Interests Section in Havana.
But the Washington Post reported that seven dissidents, many of whom have spent time in Cuban prison, attended.
"We told her what we tell every foreign government official with whom we speak, which is the importance of solidarity with the Cuban dissidents and people," said Daniel Ferrer, a member of opposition group Cuba's Patriotic Union (Unpacu).
Berta Soler, the head of the Ladies in White group of spouses of political prisoners, turned down the invitation.
---
BBC's Barbara Plett Usher at the US-Cuba talks
"Whatever the public sparring, the decision to engage with Cuba is not preconditioned on the communist state's human rights record"
Historic talks: US and Cuban perspectives
---
"I did not participate," Ms Soler said. "My decision was due to there not being a balance in terms of the diversity of opinion of the participants."
"If a diversity of opinions is sought, if differences are respected, then it should be balanced," she said.
Ms Jacobson told CNN there was a "diversity of views" at the event and said there was "nothing like hearing from people themselves on the ground".
"It was very cordial, a very human coming together," Elizardo Sanchez, head of the banned but tolerated Cuban National Human Rights Commission, said.
"I cannot speak for all of civil society but the Cuban National Human Rights Commission is satisfied with the diplomatic position of the United States."
Mr Sanchez said he was not expecting "miracles in the short term" and in fact worried repression would intensify.