Loretta Lynch, attorney general nominee, defends migrant policy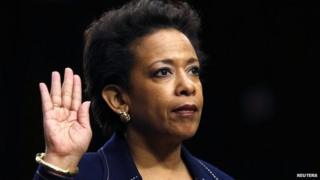 The nominee to become the next US Attorney General has defended President Barack Obama's immigration policy during her Senate confirmation hearing.
Loretta Lynch, 55, struck a conciliatory tone with members of Congress and said citizenship "must be earned" by those entering the country.
The top US prosecutor for part of New York City, Ms Lynch was named as Eric Holder's successor in November.
Her appointment is expected to be confirmed by the wider Senate.
In a prepared statement before the Republican-controlled, Senate judiciary committee, Ms Lynch said she looked forward "to fostering a new and improved relationship with this committee, the United States Senate and the entire United States Congress, a relationship based on mutual respect and constitutional balance".
Republicans in Congress have had a contemptuous relationship with Mr Holder, accusing him of not being independent enough from Mr Obama.
Mr Holder was also the first Attorney General to be held in contempt of Congress after he refused to hand over a set of files on a failed gun-running investigation.
---
Analysis: Anthony Zurcher, BBC News
"You're not Eric Holder, are you?"
The question posed by Republican Senator John Cornyn to Loretta Lynch during her confirmation hearings effectively captured the spirit the day's proceedings.
Past controversies involving the Justice Department were hashed and rehashed over the hours of questioning, starting with the opening statement by the Republican chairman of the committee, Charles Grassley, who criticised Mr Holder for what he saw as politicising the department and serving as President Obama's "wingman", in Mr Holder's own words.
Ranking Democrat Pat Leahy admonished the committee: "I just want to focus on Loretta Lynch and not on all the problems that some may see in this country."
Ms Lynch acquitted herself well during the hearings and is predicted to receive Senate approval by a comfortable margin, which perhaps explains why the Vermont senator's advice was largely ignored.
---
Ms Lynch defended Mr Obama's recent executive actions on immigration, which will allow millions of undocumented people to stay in the US and apply for work permits.
Republicans have accused Mr Obama of an illegal power-grab.
Immigration officials were now focused on deporting "the most dangerous of the undocumented immigrants among us", she said.
"It seems to be a reasonable way to marshal limited resources to deal with the problem."
The right and obligation to work is one that's shared by everyone in this country regardless of how they came, she said.
"If someone is here, regardless of status, I would prefer that they be participating in the workplace than not participating in the workplace."
Ms Lynch would be the first black woman to serve as attorney general.
Her New York office is in charge of a civil rights investigation into the police chokehold death of Eric Garner in Staten Island, a case that sparked protests about police treatment of minorities.
But the US attorney said she had been "pained" by "recent reports of tension and division between law enforcement and the communities we serve" and pledged to work on strengthening that relationship.