Reinvigorated Obama snaps into action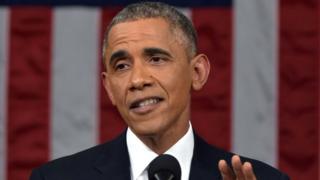 It's that time again. With a mere 21 months until Americans vote for a new president, we are hearing the first stirrings of the slumbering beast that is the US presidential campaign.
In Iowa last month, a pack of potential Republican candidates put themselves through their paces in a pre-season friendly, the Iowa Freedom Summit.
Although friendly is not how you would describe the attitude of one of the speakers towards the most prominent absentees.
The crowd of Christian conservatives - a key constituency in the state which holds the first-in-the-nation nominating contest - heard Donald Trump break the so-called 11th commandment, invoked (but not invented) by Ronald Reagan: "Thou shalt not speak ill of any fellow Republican."
"It can't be Mitt, because Mitt ran and failed," he said of the 2012 candidate, Mitt Romney.
"The last thing we need is another Bush", he thundered about Jeb Bush.
Whether or not getting the thumbs-down from "the Donald" was a factor, one of those two big hitters - Mitt Romney - has now said he will not run in 2016, but Iowan freedom lovers were able to see plenty of other hitters - of varying physical and political stature - polishing their life stories and one-liners. It is an open field.
Predictions of drift
On the Democratic side, things are progressing at a much more regal pace.
That is fitting for a nomination process, which, for the moment, looks set to be more of a coronation than a hard-fought contest.
Although the presumptive nominee, Hillary Clinton, knows better than anyone that expectations don't guarantee success and long shot candidates have a habit of snatching the crown.
So what of the man who did prevail in their epic 2008 contest, Barack Obama?
As would-be successors begin their trek through the porches and backyards of those early primary states, a sitting president can soon feel like yesterday's man, especially if his party has been soundly defeated in mid-term elections.
So, when the Democrats added the loss of the Senate last November to that of the House of Representatives in 2010, the instant analysis was unpromising.
If you thought the last six years of gridlock had been bad, it went, you ain't seen nothing yet.
The prediction: two years of drift, as the White House expends its energy on stopping Republicans from rolling back key Obama policies, chiefly Obamacare.
But what did we see at the president's news conference the day after the vote?
Not a "mopey" leader (to use his word), but a defiant one.
He refused to dwell on the defeat, or give it a snappy description like the "shellacking" of 2010.
Executive action
The headline writers would have to work for their money, without getting any help from him.
But help is not something he is expecting or craving.
Although he made the usual noises about bipartisanship, the signs are that he has more or less given up on achieving it.
The quick fix of executive action, not the slow grind of negotiations, will be his modus operandi for the next two years.
Undemocratic over-reach? The debate will rage. Effective? We will have to see.
Watching him in Washington, I was reminded of the then Senator Obama's transformation in autumn 2007, when months of poor polling and listless campaigning, seemed to jolt him into action.
The result: mojo recovered and a famous speech at the Jefferson Jackson dinner (in Iowa) that set him on the road to his party's nomination.
But for a sitting president, words are not enough. He has to act. And act he has.
On 20 November, he signed executive orders that will effectively stop about 4 million illegal immigrants from being deported.
Although there is general agreement that America's immigration system is broken, not everyone approves of the sticking plaster applied by the president.
For many Republicans, it amounts to an amnesty, an un-American reward for law breaking.
And even some of Mr Obama's supporters argue that congressional consensus is the only way to achieve lasting change - and this unilateral decision has effectively ruled that out.
Cuba breakthrough
And then there was the other big policy announcement just before Christmas: the first attempt to "normalise" the US relationship with Cuba after more than five decades of enmity.
It brought to mind one of the few memorable phrases from President Obama's first inaugural address: "We will extend a hand if you are willing to unclench your fist."
Over the years since, few countries have taken up the offer, but Cuba appears to be one of them.
And noises from the initial US-Cuban talks in Havana appear to be positive.
Even Fidel Castro has broken his silence, giving a grudging blessing to the process.
Contrast that with the president's other potential foreign policy breakthrough: a nuclear deal with Iran.
As those talks have stuttered on, the dance between outstretched hand and fist has become more problematic.
And if President Obama is going over the heads of Congress on some issues, on this one, Congress is going over his.
They are pushing for more sanctions, forcing the White House to negotiate with adversaries (and some friends) at home as well as traditional enemies in Tehran.
Not only that, but the Republican leadership has persuaded fellow Iran deal sceptic, Benjamin Netanyahu, to break with protocol and address a joint session of Congress, without telling the White House.
What impact this will have on the nuclear talks or the Israeli prime minister's chances of re-election next month isn't clear.
International challenges
Of course, re-election is not something that President Obama has to worry about himself - as he reminded us during the State of the Union address.
His off-the-cuff put-down of Republicans who applauded his reference to his post-election life ("I know, because I won both of them") seemed a sign of cockiness tinged with relief.
If the 2008 campaign was exhilarating for him, the 2012 one looked like a chore.
So, what can this leader with the bit between his teeth achieve?
Executive orders can work at home - albeit with political consequences - but they have limited impact internationally; whether in countering the challenges posed by Islamic State or Russia or in the one area where Mr Obama has most disappointed his supporters: climate change.
The agreement struck with China at the end of last year brought some rare optimism, but there was only limited progress on the issue during the president's recent visit to India.
The big UN Climate Change Conference in Paris this year will test how far he has really been able to make the political weather.