Mitt Romney: The aura of a serial loser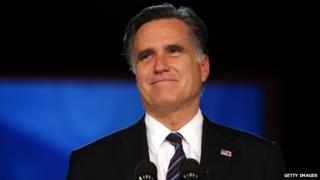 The shiny black hair, the quarterback smile, the lantern jaw. Mitt Romney has never had any difficulty looking like an American president.
Getting voters to elect him to that job has long been a problem. In 2008, he failed in his first attempt to win the Republican presidential nomination partly because he was seen as inauthentic - a moderate Republican, who had served as the governor of liberal Massachusetts, who tried too hard to recast himself as a conservative.
In 2012, when he won the Republican nomination but failed to dislodge Barack Obama, it was his image as an out-of-touch millionaire, more so than his Mormonism, that hobbled his candidacy.
A leaked video sounded the death knell. It showed him maligning 47% of the electorate as being dependent on the government (in an ironic twist, Romney won 47% of the vote, compared to Barack Obama's 51%).
At a time when income inequality and stagnant middle class incomes look set to dominate the next presidential race, it would have been hard for him to reinvent himself - although over the past few weeks, as he hinted at a run, he had been trying.
History suggests that a third bid for the White House might not have been as far-fetched as it sounds. It was third time lucky for Ronald Reagan in 1980, having failed to win the Republican presidential nomination in 1968 and 1976.
Richard Nixon also pulled off an extraordinary comeback in 1968 after losing the presidential election against John F Kennedy eight years earlier (as well as the race for California Governor in 1962).
However, the unhappy experience of Adlai Stevenson, a Democratic nominee, also looms large. Both in 1952 and 1956, he was beaten by Dwight D Eisenhower - although many liberal Democrats urged him to run yet again in 1960.
Times, though, have changed.
Vast sums of money are required to mount modern-day campaigns. Party chieftains no longer pick the nominees.
The primaries have become a long, arduous and also personally belittling process.
The media, in this age of concertinaed news cycles, constantly want new storylines and fresh characters. Mitt Romney is old news. Republican donors do not want to throw good money after bad.
He is not a natural campaigner.
Mitt Romney shares many of the same traits as his father George, a former governor of Michigan and a highly successful automobile executive.
Romney senior was seen as a talented administrator, but a gaffe-prone campaigner. His bid for the Republican nomination in 1968 ended shambolically, after offhand comments about being brainwashed during a fact-finding trip to Vietnam opened him up to ridicule.
Theodore White, the great chronicler of American presidential campaigns, noted of George Romney that he gave "the impression of an honest and decent man simply not cut out to be President of the United States". It works, too, as a political obituary for Mitt.
In the land that loves winners, he had the aura of a serial loser.