Hannah Graham: Jesse Matthew charged with murder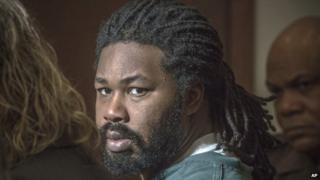 A man has been charged with the murder of a University of Virginia student whose disappearance for weeks made national headlines.
Jesse Matthew, 32, was seen walking with Hannah Graham on CCTV footage on the night she disappeared in September.
He was already charged with her abduction and is now accused of first-degree murder, law enforcement officials said Tuesday.
British-born Ms Graham, 18, attended a party in Charlottesville that night.
The second-year University of Virginia student, who appeared to be drunk, was seen on CCTV footage in several different locations throughout the town.
She texted a friend saying she was lost and was seen walking, and at some points running, past a pub and a service station.
In the last few sightings, Ms Graham is seen walking through the main shopping street in Charlottesville. At two separate points, Mr Matthew is seen walking beside Ms Graham.
Her disappearance prompted a huge and prolonged search involving thousands of volunteers, and ended when her remains were found in October in rural Albemarle County.
Police have also linked Matthew to the 2009 disappearance and death of 20-year-old Virginia Tech student Morgan Harrington, but there have been no charges.