Obama defends immigration plan after legal setback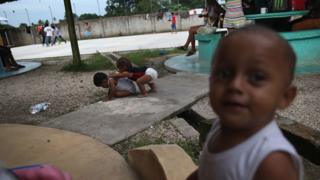 President Barack Obama has hit back at a ruling in Texas that brought to a halt his controversial migrant plan.
A federal judge sided with 26 US states, ruling against the president's attempt to spare up to five million undocumented people from deportation.
The first stage was due to start on Wednesday, so the process is on hold with legal battles ahead.
But the president said he was confident the issue would be resolved in the White House's favour.
"With respect to the ruling ... I disagree with it," Mr Obama told reporters in the Oval Office.
"I think the law is on our side and history is on our side."
White House officials say they are are "on very strong legal footing" and could seek an emergency stay of the decision within days.
The Justice Department is also going to appeal but until then, the administration has suspended its plans to give undocumented migrants the chance to apply for legal status.
About 270,000 undocumented immigrants who came to the US as children and have lived in the US since 2010 were hours away from being eligible to apply.
---
Analysis: Thomas Sparrow, BBC Mundo, Washington
Far from the political debate that has dominated immigration, Monday's ruling has the potential to affect millions of undocumented immigrants across the country.
About 270,000 undocumented immigrants will be immediately affected. And the halt may also increase the fear many Hispanics around the country feel about releasing their personal information for a programme that is limited in scope, temporary in nature and could be reversed by decisions like the one on Monday.
During a recent trip to the US-Mexico border in Texas, we spoke to many undocumented Hispanic immigrants who clearly expressed those fears.
One of them even said that "with this announcement, there is no hope, you don't know where your future lies," referring to president Obama's November executive action.
The silent enemy of Obama's migrant plans
---
The coalition in opposition, led by Texas and made up of mostly conservative states in the South and Midwest, say the order would increase costs for law enforcement, health care and education.
On Tuesday the White House defended the legality of its policy, announced by President Obama in November after immigration-reform efforts had failed repeatedly in Congress.
White House spokesman Josh Earnest said Mr Obama's executive order is not out of legal bounds and that the US Supreme Court and Congress have said federal officials can set priorities in enforcing immigration laws.
But Republicans hailed federal Judge Andrew Hanen's injunction.
"The Texas court decision reached last night is a major turning point in the fight to stop Obama's lawless amnesty," said Senator Ted Cruz, a Texas Republican.