Insider to run Secret Service despite calls for outside leader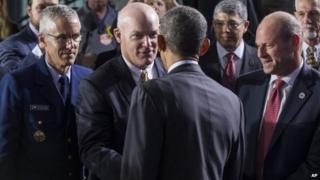 Joseph Clancy has been appointed as the new head of the president's protective detail, the Secret Service, the White House confirms.
He has been leading the agency since the last director resigned over a series of embarrassing security lapses.
Mr Clancy is a veteran of the agency who has personally guarded three presidents.
But he was chosen over the recommendation of an independent panel who suggested an outsider for the role.
The review panel attributed the agency's recent failures in part because it had become to insular.
"Only a director from outside the Service, removed from organisational traditions and personal relationships, will be able to do the honest top-to-bottom reassessment," the panel wrote in its December report.
But White House spokesman Josh Earnest said Mr Clancy had "a lot of credibility built up inside the agency" and used it to "put in place reforms that were recommended by this outside panel".
Republican Representative Jason Chaffetz, chairman of the House panel which investigated problems in the Secret Service said he was disappointed in the move,
"The good men and women of the Secret Service are screaming for a fresh start," he said in a statement.
Former director Julia Pierson stepped down after a man jumped the White House fence and made it into the executive mansion brandishing a knife in September.
Other incidents include confirmation an armed man with an arrest record had been allowed on an elevator with Mr Obama and a 2012 scandal in which advance teams in Colombia had hired prostitutes.