Lance Armstrong admit Aspen careless driving charge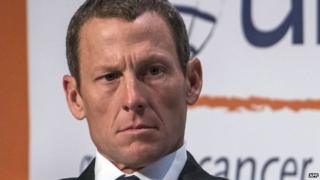 US cyclist Lance Armstrong, who won and was then stripped of seven Tour de France titles, has pleaded guilty to careless driving.
His girlfriend Anna Hansen initially told police it was her in the driver's seat when the pair collided with parked vehicles in Aspen last year.
She later admitted that she lied to avoid media attention.
Lance Armstrong received a lifetime cycling ban after confessing to systematic doping.
The incident which led to his careless driving plea happened in December 2014.
Driving in icy conditions, the couple's SUV collided with two parked cars.
Officers traced the accident back to Armstrong and his girlfriend.
A local police report quoted by the Aspen Daily News said Ms Hansen became "upset" when the veracity of her initial account was questioned.
"We've had our family name smeared over every paper in the world in the last couple of years," she was quoted as saying in a police statement, reported the Aspen Daily News.
"I just wanted to protect my family."
According to court records, Armstrong paid $238.50 (£155) in court fees and a fine of $150.
Armstrong entered his plea by mail, thereby avoiding a court appearance.