US tries Rabbi Mendel Epstein over divorce kidnap scheme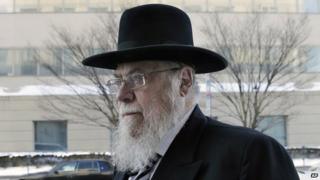 A rabbi has gone on trial in the United States accused of plotting to abduct Jewish men who refused to grant their wives a divorce.
Rabbi Mendel Epstein faces charges of conspiracy to commit kidnapping and attempted kidnapping in New Jersey.
Prosecutors allege Rabbi Epstein's team used tools including cattle prods to force husbands to agree to divorce.
Defence lawyers said he was a "champion of women's rights" and disputed the charges.
Under Orthodox Jewish belief, a husband must grant permission for a divorce. This comes in the form of a document known as a get.
Rabbi Epstein, 69, is on trial alongside his son David Epstein and two other co-defendants, Jay Goldstein and Binyamin Stimle. They face similar charges stemming from a staged kidnapping in 2013 and three other "forced" divorces.
Screwdriver
During their opening statement on Wednesday prosecutors played a short, grainy video clip of the rabbi discussing a staged kidnapping with two undercover FBI agents.
He is heard saying: "Basically, what we're going to be doing is kidnapping a guy for a couple hours."
The authorities alleged the gang brought along surgical blades, a screwdriver and rope.
Rabbi Epstein is also alleged to have told the undercover agents that he arranged similar kidnappings every year or year and a half, which cost at least $50,000 (£32,350) each.
Defence lawyer Robert Stahl argued that his client was acting as an advocate for women and had a reputation for "convincing these husbands to go give their wives a get".
Mr Stahl did not dispute that "some laws may have been broken along the way", but said kidnapping was not one of them.