Boehner stays silent on homeland security funding vote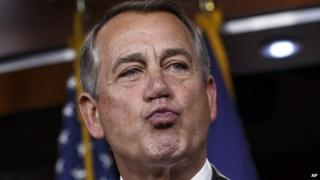 House Speaker John Boehner has refused to say whether the House will vote on a Senate bill funding homeland security before a Friday deadline.
"When I make a decision, I'll let you know," Mr Boehner told reporters.
The Senate is set to pass a bill without blocking immigration policies made by US President Barack Obama by executive action last year.
If the House does not take it up by Friday, a partial government shutdown will follow.
About 200,000 of the agency's 230,000 employees, including airport security agents, would continue to work but would not be paid until the shutdown came to an end.
Some Republicans are seeking to end Mr Obama's immigration policies, which protect more than five million undocumented immigrations from deportation, using the homeland security $40m (£26m) budget as a bargaining chip.
Mr Boehner and others argue the US president has overstepped his powers.
Meanwhile, a federal district judge has blocked those policies from taking effect while a lawsuit by more than two dozen states goes forward.
But the Obama administration has appealed that ruling. On Wednesday, Mr Obama said he would pursue the case to the US Supreme Court if necessary.
On Wednesday, a House bill stripping Mr Obama's executive action while funding the homeland security department was blocked in the Senate, but the Senate is set to pass its own version - without touching the immigration policies.
Senate Majority Leader Mitch McConnell, also a Republican, is expected to pursue a separate bill revoking Mr Obama's most recent immigration directives.
"The House has done its work. And when the Senate does its work, we'll let you know how we're going to proceed," Mr Boehner said.
Mr Boehner met Mr McConnell in private on Wednesday - but there was no indication after that meeting if Mr Boehner would allow a vote on the Senate version of the funding bill.
Republicans are reportedly considering several options to prevent a shutdown, including passing bill to fund the department for a shorter period of time.
The White House has not said whether Mr Obama would sign a shorter-term funding bill.