Rights group sues FBI for death amid Boston bombing probe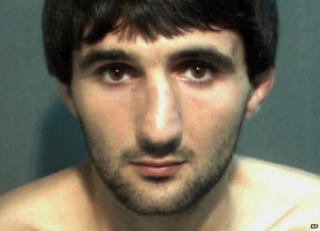 The family of a man who was killed by the FBI during the investigation into the Boston marathon bombings is suing the agency.
Ibragim Todashev - a friend of one of the suspects, Tamerlan Tsarnaev - was fatally shot in Florida on 22 May 2013.
The Council of American-Islamic Relations (Cair) said it filed the $30m (£19.5m) wrongful death lawsuit on Monday on behalf of the family .
The FBI would not comment on the lawsuit, citing official policy.
FBI agents were interviewing Todashev, a Chechen immigrant, at his apartment about a month after the bombings, as part of an investigation into the background of Tsarnaev.
According to the agency, Todashev became agitated and attacked an agent with a metal pole during the interview.
"We are seeking answers and justice for someone who was shot seven times by an FBI agent in his own home after hours of interrogation," said Cair spokesman Ali Kurnaz
US officials said Todashev, a mixed martial arts fighter, began attacking the agent just after admitting a role in a September 2011 triple murder near Boston that was unrelated to the bombing. He reportedly implicated Tsarnaev in that incident.
"According to policy, we are unable to comment on any pending civil lawsuit matters," FBI spokesman David Couvertier told the BBC. Other sources declined comment citing the same policy.
Tsarnaev was killed as he fled from authorities after the bombings. His brother, Dzhokhar, was captured and is facing trial in Massachusetts relating to the attacks.