Tsarnaev calmly bought milk after bombings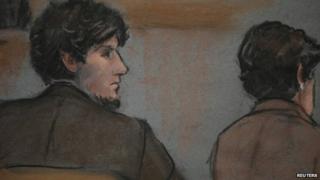 Dzhokhar Tsarnaev calmly bought milk shortly after twin explosions hit the Boston Marathon finish line, in a video shown to a jury in Boston.
It was one was several surveillance tapes shown of Mr Tsarnaev immediately before and after the bombings, in which three people died.
The trial also heard that Mr Tsarnaev ran a second Twitter account with a more religious focus.
Mr Tsarnaev, 21, could face the death penalty if convicted.
His older brother, Tamerlan, died in a shootout with police several days after the bombing.
Three people died and more than 260 were injured after the bombs exploded at the finish line. A university police officer was killed days later as the two brothers tried to escape.
Mr Tsarnaev's defence lawyers have admitted he participated in the bombings, but has said he was influenced by his older brother.
Surveillance video played for the jury on Monday shows the younger brother walking with a backpack near the finish line. When he arrives at the front of a restaurant, he drops the pack from his shoulder.
A video frame was shown to jurors of the bag on the ground near a crowd of people, including two children - Martin Richard, who was killed by the explosion, and his sister, who lost a leg.
As the first bomb explodes, the video shows everyone in the crowd turning toward the blast.
Mr Tsarnaev does not look in that direction and instead begins to walk in the other direction, as the second bomb explodes, he begins running with a crowd trying to move away from the blasts.
Security footage from a Whole Foods market in nearby Cambridge shows the then-teenager calmly shopping and then buying milk less than a half-hour after the explosions.
On Monday, prosecutors showed jurors tweets from what they identified as two accounts of Dzhokhar Tsarnaev - one @J_Tsar, and a second @Al_firdausiA, where he tweeted only several times in the month before the bombings.
"If you have the knowledge and the inspiration all that's left is to take action," he tweeted on 7 April a little over a week before the bombings, on @J_Tsar.
But @J_Tsar also included rap lyrics and short humorous stories about his life.
"I want the highest levels of Jannah," he tweeted March 10, on the second account, referring to the Islamic concept of paradise. "I want to be able to see Allah every single day for that is the best of pleasures."
The jury has heard from 27 witnesses, including victims and emergency workers, during the trial's first three days, as defence lawyers have only cross-examined two of those witnesses.
But defence lawyers expect to question the FBI agent who investigated Mr Tsarnaev's social media presence on Tuesday.