Ebola: US aid worker evacuated from Sierra Leone 'critical'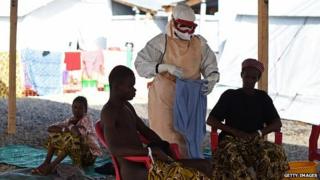 The condition of a US aid worker who tested positive for Ebola has changed from serious to critical, hospital officials have said.
The patient - a clinician - was airlifted from Sierra Leone and admitted to the National Institutes of Health in Maryland, on Friday.
Ten other healthcare workers "who came to the aid of their ailing colleague" are being transported to the US, said charity Partners in Health.
They are being monitored for symptoms.
On Friday, the Centers for Disease Control and Prevention (CDC) sent a team to Sierra Leone to investigate how the healthcare worker became exposed and determine who might have been in contact with the infected person.
The patient is the eleventh person with the deadly virus to be treated in the US.
More than 10,000 people have died in the current Ebola outbreak - 3,687 in Sierra Leone, according to the World Health Organisation.