Boston bombing police detail chaotic gunfight in court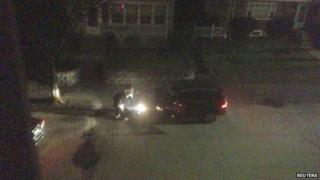 Police have described the chaotic confrontation with the Boston Marathon bombers, as a trial for the surviving brother enters a third week.
Three officers said that Dzhokar Tsarnaev and his brother, Tamerlan, lobbed explosives and fired shots from a stolen SUV during an escape attempt.
Tamerlan died during the melee when his brother ran him over and dragged his body up to 30 feet (9.1 metres).
The officers spoke at Dzhoker Tsarnaev's murder trial in Boston.
His lawyer concedes the brothers were behind the attacks that killed three people and wounded more than 260, but says his client was influenced by his brother.
The skirmish began in the early hours of 19 April 2013 - several days after the bombings - when an officer spotted a stolen Mercedes SUV.
The officer, Joseph Reynolds, said he "locked eyes" with Tamerlan Tsarnaev, who was driving the vehicle and who got out of the car and began firing at him.
As more officers began to arrive on the scene, the brothers began throwing bombs - including a pressure-cooker bomb, similar to those used used at the marathon bombing, and two pipe bombs.
Tamerlan began running towards one of the officers while returning fire but when his pistol jammed, he was tackled and there was an ensuing scuffle.
Then police spotted the stolen vehicle bearing down on them at high-speed and it struck Tarmerlan, the car dragging him up the street.
A massive manhunt led officers to discover Mr Tsarnaev hiding in a boat parked in a back garden.
Earlier on Monday, jurors were taken to see the boat which is riddled with bullet holes.
Defence lawyers claim that Mr Tsarnaev was pressured by his older brother. Prosecutors say he was wilfully involved.
The jury will decide whether the 21-year-old faces the death penalty if convicted.