United Airlines flight turns around after man charges cockpit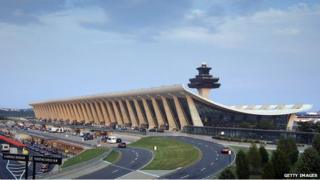 A plane en route to Denver, Colorado, has been forced to return to Washington DC after a man caused a disturbance onboard.
Passengers had to tackle the man as he charged the cockpit claiming to have a bomb, according to local media reports.
Airport police took the man - who has not been named - into custody late on Monday, and later to a local hospital.
Flight 1074 had 33 passengers and six crew members on board, according to United Airlines.
"There's a passenger in the back, he ran forward towards the cockpit and now he is being restrained by other passengers," the aircraft's pilot says in an air traffic radio recording obtained by a Colorado NBC station, 9News.
He added: "The cockpit is secure, and we would like to return to the airport and have authorities meet him."
The pilot said no weapons were involved.
A Metropolitan Washington Airports Authority police officer at Dulles told the BBC that officers from his department apprehended the man once the plane landed.
In a video provided to the local station by a passenger, a man is seen pinned to the floor by other passengers.
A spokesman for the airline said passengers were rescheduled for a flight to Denver this morning.