US tycoon Robert Durst deemed suicide risk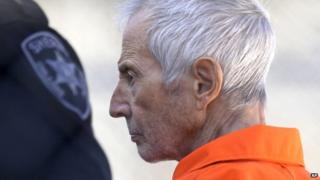 A US real estate tycoon, who is awaiting trial on a murder charge, has been moved to a mental health unit after being deemed a suicide risk.
Robert Durst was transferred on Tuesday night to a Louisiana state prison that handles severely mentally ill inmates.
Mr Durst appeared to confess to three killings while being filmed for documentary.
He was arrested in New Orleans on Sunday and has been charged with the murder of his friend, Susan Berman.
Also on Tuesday, investigators spent hours searching his home in Houston, Texas.
Officers were seen carrying away two boxes after spending several hours searching Mr Durst's condominium.
Mr Durst's lawyer, Dick DeGuerin, called the search "a publicity stunt" and said he would be surprised if investigators found any incriminating evidence.
"I don't know what they could be looking for 15 years after Susan Berman was killed 1,500 miles away," Mr DeGuerin said. "They can search now till kingdom come. They're not going to find anything because there isn't anything."
Mr Durst is being held in Louisiana on gun charges while waiting to be transferred to Los Angeles to face a murder charge for the 2000 shooting death of Ms Berman.
In a recording that was made during a break in the filming of a documentary about his life, Mr Durst can be heard saying "I don't know what's in the house," just before saying he "killed them all".
Mr Durst appears to be speaking to himself the recording, while wearing an active wireless microphone inside a bathroom. The recording was given to police months ago, the filmmakers say.
He has long been suspected in the disappearance of his first wife, who went missing from their country home in New York state in 1982. He has never been charged.
In 2003, he was acquitted of murder in the death of his elderly neighbour, whose dismembered body was found floating in a Texas bay.
On Monday, Mr Durst agreed to be transferred to California to stand trial for Ms Berman's death, but the move was delayed by gun and drug charges that were later filed.
It is not clear when he will be sent to Los Angeles, where he could face the death penalty if convicted.