New York and Boston to see snow on first day of spring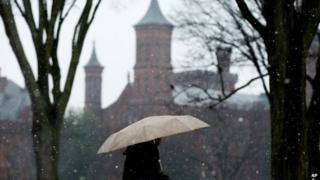 A storm is expected to bring up to six inches of snow in parts of the US north-east and mid-Atlantic on the first day of spring.
Snow was already falling in Washington DC and Philadelphia by Friday morning, and New York was expected to see as much as five inches.
The storms follows a snowy and frigid winter for the US east.
Even Boston, where a record 108.6in (276cm) of snow fell this season, could see a final dusting over the weekend.
"It's more of a nuisance at this point, especially after this winter," meteorologist Ryan Maue, of Weather Bell Analytics, said.
The storm system was expected to strengthen as it moved north, potentially bringing blizzard conditions to eastern Canada.