Knife-wielding New Orleans airport attacker dies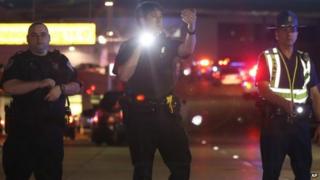 A man who was shot by police as he tried to storm a checkpoint at New Orleans international airport on Friday has died from his wounds, police say.
Richard White, 63, allegedly struck a security worker with a large knife after attacking another with spray.
He was then shot three times by a police officer and taken to hospital.
At a news conference on Saturday, officials described Mr White as having mental health problems.
He was treated in hospital for leg, chest and face wounds but died on Saturday afternoon.
Officials say Lt Heather Slyve shot Mr White as he continued to threaten the security agent with his knife.
One round hit an airport security agent, who later praised the actions of Lt Slyve: "She probably saved my life because he was within inches of whacking me.
"She saved a lot of people's lives. This man was swinging very hard with the machete."
Petrol bombs were found in a bag carried by Mr White, Sheriff Normand said, as well as smoke bombs in his car which was parked near the airport.
Those making their way to and from flights in the busy terminal reported chaotic scenes as the incident unfolded.
Jeremy Didier, who had just arrived on a flight from Florida, said he saw a man "jumping over people" in the queue at the boarding pass checkpoint.
Two gunshots rang out and "everyone hit the floor," he told The Times-Picayune, a New Orleans newspaper.