Oklahoma 'Taser error' officer turns himself in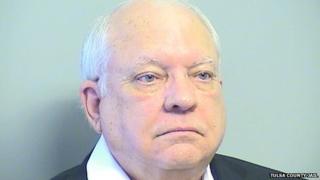 A white officer who killed a black man after apparently mistakenly grabbing his gun instead of his Taser has turned himself in to police.
Robert Bates, 73, has been charged with manslaughter for killing Eric Harris, 44, during a sting operation over gun sales in Tulsa, Oklahoma.
His lawyer said the charges were "unwarranted" as he and Mr Bates left the police station.
His client was released on a $25,000 (£16,900) bond.
Mr Bates served as a reserve deputy in Tulsa County Sheriff's office, a volunteer position, since 2008.
He is also chief executive of an insurance firm and a major donor to the Sheriff's office.
The manslaughter charge carries a prison sentence of up to four years if Mr Bates is convicted.
A video of the 2 April incident, released at the request of the victim's family, shows Mr Harris being chased and brought to ground before he is shot.
A gunshot is heard and a man says, "Oh, I shot him. I'm sorry."
Mr Harris is heard calling out "He shot me, oh my God!"
He later died in hospital.
It was the second time in a week a videotaped fatal shooting of a black man has provoked an outcry.
Last week Walter Scott, an unarmed 50-year-old, was shot in the back and killed in South Carolina.
The protests that followed that incident continued months of demonstrations about police use of force, ever since a black unarmed teenager was shot dead in Ferguson, Missouri, last summer.
---
Are police fatal shootings on the rise?
impossible to say, with no official figures covering the nation's 17,000 law enforcement agencies
lots of cases making the news but possibly due to increased media attention
government report in March estimated average of 928 deaths a year
126 police officers died in 2014 while in line of duty, about 50 from firearms
Sources: Bureau of Justice Statistics, National Law Enforcement Officers Memorial Fund
---