Family of police officer killed by Boston bomber tell of grief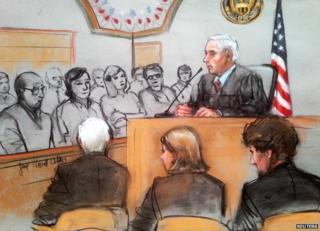 The family of a police officer killed by Boston Marathon bomber Dzhokhar Tsarnaev has told a court about their loss, as a jury ponders his punishment.
Officer Sean Collier was shot dead by Tsarnaev three days after he planted bombs at the race finish line, killing three people and injuring many more.
Collier's stepfather, Joseph Reynolds, said: "It's been a terrible two years."
He said Collier's mother was diagnosed with post-traumatic stress disorder and still had not been able to work.
She was so distraught by her son's death that she could not even get out of bed for months, Mr Reynolds told the court in Boston.
Tsarnaev, 21, was convicted this month for both the bombing and the killing of Collier.
The jury is now hearing arguments for and against Tsarnaev being put to death.
His lawyers say his older brother Tamerlan, now dead, masterminded the bombing and therefore the younger Tsarnaev does not deserve the death penalty.
But prosecutors say he has shown no remorse and deserves to die.
The Tsarnaev brothers shot Collier in his police car after failing to steal his gun while they were both on the run.
The jury was shown photographs of Collier as a child and at his graduation ceremony from the academy as a police officer, with his mother pinning his badge on him.
"That was probably the happiest day of his life," said Mr Reynolds.
A ballroom dancer, Adrianne Haslet-Davis, who lost a leg in the attack also gave evidence, describing the moments after the first blast.
"I wrapped my arms around my husband and said: 'The next one's gonna hit, the next one's gonna hit.'"
She was thrown to the ground and then crawled through broken glass, dragging her bloody leg along the pavement.
Her husband also survived.