US plane makes emergency landing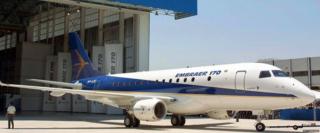 A plane has been forced to make an emergency landing in Buffalo, New York after suffering a "pressurisation problem," officials say.
SkyWest Airlines Flight 5622 landed at Buffalo International Airport after the crew declared an emergency.
The flight departed from Chicago and was scheduled to land in Windsor Locks, Connecticut.
The Federal Aviation Administration says it will investigate the matter.
An airline official told the BBC that the plane diverted to Buffalo "after a passenger lost consciousness".
The passenger received medical attention and has been released.
Earlier reports in the US media said that the plane was forced to land after one of its doors opened during the flight.
An airline official said: "There is no indication of any problems with the doors and our investigative teams are in the process of inspecting the aircraft."