Men charged in Mississippi police deaths in court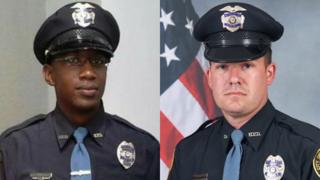 Four men have appeared in court charged over the fatal shooting of two police officers in Hattiesburg, Mississippi.
Officers Benjamin Deen, 34, and Liquori Tate, 25, died on Saturday after being shot when making a traffic stop.
Their colleagues, wearing black armbands, held a memorial service for them on Monday.
Hours later, Marvin Banks and his brother Curtis, Joanie Calloway and Cornelius Clark appeared in court facing charges over the incident.
Mr Banks has two murder charges, accused of shooting the two officers. Ms Calloway faces an accessory charge, as the alleged driver of the car.
Cornelius Clark was charged with obstruction of justice and Mr Banks' brother, Curtis Banks, was charged with being an accessory to the crimes.
Officials told The Associated Press that Marvin Banks had tried to escape in a police car after the shooting but left the car after three blocks.
According to his mother, Mary Smith, Mr Banks has mental problems related to a drug addiction.
She said that her son smoked "spice" daily and had been hearing voices ever since he was attacked and hit in the head with a pipe several years ago.
Attorney General Loretta Lynch said the officers' deaths were even more tragic because the shootings came at the same time the country was observing Police Week to honour those who died in service.
The incident comes after the killing of a New York police officer last week. Brian Moore, 25, was shot in the head while attempting to question a suspect from his police car.
In December, two officers were shot dead in their car in New York by a man who then committed suicide.