US Marine helicopter declared missing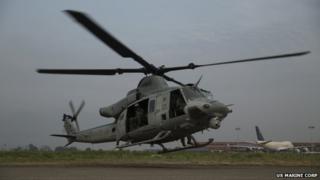 A "rigorous" air search has resumed for a US Marine helicopter declared missing in Nepal, according to the US military.
Six US Marines and two Nepali soldiers were on board the helicopter as it delivered aid to earthquake victims.
A second earthquake struck on Tuesday, nearly two weeks after an earlier one killed more than 8,000 people.
A Nepali battalion are searching on the ground, while US aircrafts work in shifts to search for the missing crew.
The air search had been halted overnight due to darkness, but resumed in the morning with the Americans deploying two Huey helicopters and two MV-22 tilt-rotor Osprey aircrafts.
The missing US team had been working in the vicinity of Charikot, a village that has been hit hard, a spokesman for the US Pacific Command said.
The helicopter was declared missing Tuesday evening, according to Pacific Command spokesman Major Dave Eastburn.
It had been flying from Kathmandu airport as part of the US Operation "Sahayogi Haat", which means "helping hand" in Nepali.
According to the Pentagon, there was talk of "fuel issues" heard over the radio by a nearby Indian helicopter before the flight went missing in the rugged, mountainous region.
Pentagon spokesman Lt Col Jeff Poole told BBC News that the team was delivering food and shelter before it went missing.
The aircraft had dropped off supplies at one location, and was en route to a second site when contact was lost, according to Col Warren.
Officials are hopeful that the flight had not crashed, since no sign of smoke or fire has yet been discovered.
"Essentially what we have right now is truly a missing helicopter. We simply don't know its location," Col Warren said.
There are currently 300 US troops conducting relief missions in Nepal, and another 270 assisting from nearby Thailand.