Police shoot NYC hammer attack suspect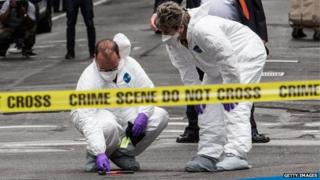 A man suspected of attacking four strangers in Manhattan within hours on Monday has been shot by police.
New York Police Commissioner Bill Bratton says the man, David Baril swung a hammer at an officer near Madison Square Garden and was shot twice by the officer's colleague.
He remains in a critical condition in hospital.
Mr Baril is accused of wounding three women and one man with a hammer in four separate ambushes on Monday.
Commissioner Bratton said that a police video camera had captured the latest attack, against the officer, on Wednesday.
It shows Mr Baril removing a hammer from his bag and swinging it claw end first towards a female officer.
He was then shot twice by the officer's partner.
Police say the black and silver hammer recovered at the scene matches the description of the one used against four others on Monday.
a 34-year-old woman was struck in a Manhattan park
a 28-year-old woman in Union Square hit in the head
a 33-year-old struck from behind
a 20-year-old in a different part of the city
Anthony O'Grady, 26, who witnessed the police shooting, says that there was a chase before the suspect turned around and was shot.