Boston bomber: Jury deciding on Tsarnaev's fate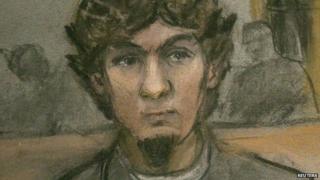 The fate of Dzhohkar Tsarnaev is now in the jury's hands to decide whether the Boston bomber will get life in prison or the death penalty.
The prosecution and defence wrapped up closing arguments on Wednesday and the jurors have begun deliberating.
During the final arguments, Tsarnaev's lawyer urged jurors to understand how young he was, 19 years old.
Prosecutors said he was a cold-blooded killer.
Tsarnaev knew exactly what he was doing when he placed a bomb at the finish line of the Boston Marathon in 2013, they said.
Three people died and more than 360 were injured in the bombings.
Judge George O'Toole told jurors before the closing arguments that there are only two choices - life in prison with no chance of release or the death penalty.
"The choice between these very serious alternatives is yours and yours alone to make," the judge said.
All 12 jurors must agree on the sentencing. If even one juror votes against the death penalty, Tsarnaev will get life in prison.
Prosecutor Steven Mellin said Tsarnaev wanted to cause as much pain as he could.
"This is what terrorism looks like," Mellin said of a photo of victims lying bloodied on the sidewalk after the bombings.
The defence team has painted a different picture of Tsarnaev, saying he was malleable and swindled by his radical older brother, who died in a shootout and car chase with police shortly after the bombings.
Tsarnaev's lawyer Judy Clarke said the death penalty should be reserved for the "worst of the worst" and Tsarnaev isn't one of them.
"We think we have shown you that it's not only possible but probable that Dzhokhar has potential for redemption," said Ms Clarke.