Police detonate pressure cooker outside US Capitol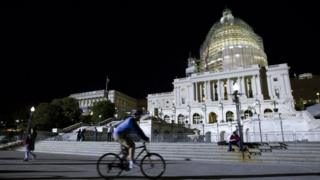 Police in Washington DC have destroyed a pressure cooker found inside a "suspicious" vehicle parked near the US Capitol.
Officers on patrol discovered the vehicle parked along the National Mall on Sunday during a holiday concert.
Police said the vehicle had "odour of gasoline" and found other "items of concern", but they would not say what those items were.
The owner of the car, Israel Shimeles of Virginia, was later arrested.
Pressure cookers have been used to create homemade bombs.
The two men who carried out the Boston Marathon bombings in April 2013 used pressure cookers filled with nails in the attack, in which three people were killed and 260 others were wounded.