Canadian boy reels in massive tuna off Prince Edward Island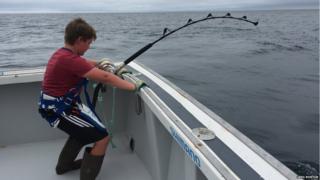 A Canadian boy has caught a 486lb (220kg) tuna in Naufrage Harbour, off the coast of Prince Edward Island.
Koen Norton, 10, is hoping to secure the International Gamefish Association record for largest tuna caught by a child 10 years old or younger.
He was on his family's charter boat when he caught the massive fish on Sunday, using a fishing technique called "stand up" involving a harness.
Norton has been fishing since he was about five.
"He's talked about this record for quite a while," his father Greg Norton, who runs a fishing charter boat business, told the BBC. "We waited until he was 10 because it gave him the advantage of being as big as he could be. We go fishing every chance we get."
Koen Norton said it took him an hour to reel in the massive tuna.
"It was fun," Koen told the BBC. "It was just amazing how it felt when I was fighting it. When I hooked him, I could tell he was going to be a little bit of a fight."