Two dead and three injured in Houston motorway crash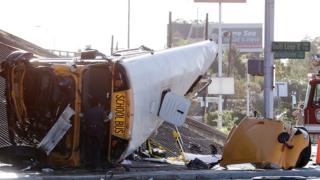 Two girls have been killed and three people were injured after a school bus veered off an overpass and plunged into a motorway in Texas.
The bus driver apparently swerved to avoid hitting another car on Tuesday and crashed through a guard rail, officials said.
Only four students, who were travelling to Houston's Furr High School, were on the bus at the time of the crash.
The driver of the other car was detained but has not been charged.
Wretha Thomas, the head of the Houston's bus drivers' union, said she hoped counsellors would speak to drivers and students before the afternoon route.
"This is the worst I've ever seen in my 30 years as union president," she said told the Houston Chronicle.
The bus was equipped with seat belts and security cameras. Authorities are currently reviewing the footage.
Houston's is the largest public school district in Texas, with about 215,000 students.
The city is the US's fourth most populous and is widely spread out, connected by an expansive network of motorways.