Three held over murder of Canadian tourist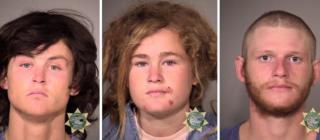 Three people have been accused of killing a Canadian backpacker and a yoga instructor in San Francisco.
Sean Michael Angold, Morrison Haze Lampley and Lila Scott Alligood committed the murders with a stolen gun, say authorities.
They were arrested in Oregon and are heading back to California, where they are expected to be charged.
Backpacker Audrey Carey, 23, from Quebec, was found dead in Golden Gate Park in early October.
She was on her first solo backpacking trip and had been travelling in California for a week when she was robbed and killed.
Yoga teacher Steve Carter was shot multiple times two days later on a trail 20 miles (32km) north of the city.
Carter was out hiking with his dog, who was also shot but is expected to survive.
The three suspects were arrested at a homeless shelter in Portland, Oregon, after being tracked through the navigation system of Carter's stolen car, detective said.
They could appear in court on Tuesday.
Marin County sheriff's lieutenant Doug Pittman said they had no fixed abode and seemed to be "living off the radar".