Will Smith, retired NFL star, was shot in the back seven times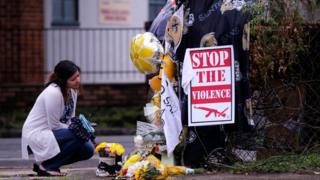 A "rageful" driver shot retired US football star Will Smith in the back seven times, killing him, the Smith family has said.
The former New Orleans Saints player was driving with his wife in the city on Saturday when a Humvee crashed into Smith's car.
Police said the crash set off a row and the Humvee's driver, Cardell Hayes, killed Smith and wounded his wife.
Smith's family told reporters Mr Hayes was "remorseless" after the shooting.
Mr Hayes ignored the pleas of Smith's wife to leave the couple alone and stood over Smith's dead body yelling, said Peter Thomson, an attorney for the Smith family.
Mr Thomson said Smith's wife, Racquel, said her husband died trying to protect her. She called him "her superman".
"Go back to your car. We have children. This is not worth this," Racquel Smith reportedly told Mr Hayes before he opened fire.
She is being treated at hospital and is expected to recover.
Police said Smith had a gun in his car the night he was shot but it was never fired and he did not have it on him.
Mr Hayes, who has been charged with murder, said Smith was the aggressor.
Smith, a 34-year-old father of three, played with the Saints for his entire career and won a Super Bowl with the team in 2009.
He retired in 2012 after he was implicated in the "Bounty Bowl" scandal.
The NFL accused of Smith of being part of a locker-room pool that paid cash bonuses for heavy and even injurious hits.