'Wall Street of the South' reflects on Obama
As the second-biggest banking centre in the US, the city of Charlotte in North Carolina felt the effects of the financial crisis of 2007-08 directly. A year later North Carolina voted for a Democratic presidential candidate for the first time in three decades.
With the Obama presidency now entering its final months, Jamie Coomarasamy returned to "the Wall Street of the South" to catch up with the cross-section of people he met just after President Obama's election.
In 2009, banker Chris Roberts was not just concerned about the disease that had spread through his industry, but about the cure. The government stimulus package - then valued at $787bn (£548bn at the time) - had just been passed and he saw the scale of state intervention as a challenge to the capitalist system itself.
Seven years later, he now says that his worst fears have not been realised, with one exception - the president's healthcare plan: "I expected a more left-leaning presidency, even though you do see Obamacare.
"I think we needed something to cover that hole, but I think this is going to cost jobs in the long run."
As a primary care physician - the equivalent of a GP - Michael Dulin takes a different view. In early 2009, the president's plan was not yet on the table, but Dr Dulin's work in the city's free clinic system had acquainted him with the challenges facing uninsured patients.
Today, he likes Obamacare, but wishes that North Carolina's Republican governor had not opted out of the part of the law that extends Medicaid, the federal healthcare programme for the poor.
"We left a number of low-income patients without access to those resources," he tells me wistfully. "It felt like a political decision. There was no reason for them to refuse that money."
In early 2009, chief financial officer Wendy Laxton was changing her relationship with money. After six months out of work, she'd struck out on her own and was making a third of what she had before. Seven years on, her financial consultancy has been successful, but political polarisation has become the norm.
"I had hoped back then that they would eventually take their feet out of the sand and start working together," she says. "Now, my expectation is that they won't. I hope we can cross this divide, because it's not getting us anywhere."
Construction company owner Katie Tyler shares those sentiments. During the financial crisis her business, Tyler 2 Construction, was forced to sack employees and pause projects.
She has also bounced back, but gives the politicians little credit. A proudly independent voter, Ms Tyler put her trust in Barack Obama in 2008 and 2012. She does not blame him for what's happened in Washington, but feels the country is crying out for something different.
"I'm thinking about looking into what it would take to organise a third party locally," she says.
She is also unhappy with the fourth estate. In her opinion, the media focuses too much on the anger in the country and not enough on the large part of middle America struggling to get its frustrations heard above the noise.
But what of the 2016 candidate who seems to be benefiting most from the anger: Donald Trump?
I found support for him in an unlikely place. Barbershop chain No Grease is an African American-owned business, which helped Barack Obama in 2008 by encouraging its customers to vote.
"It used to be 'my vote doesn't count,'" customer Aaron Brand told me in 2009. "But now you can see it does."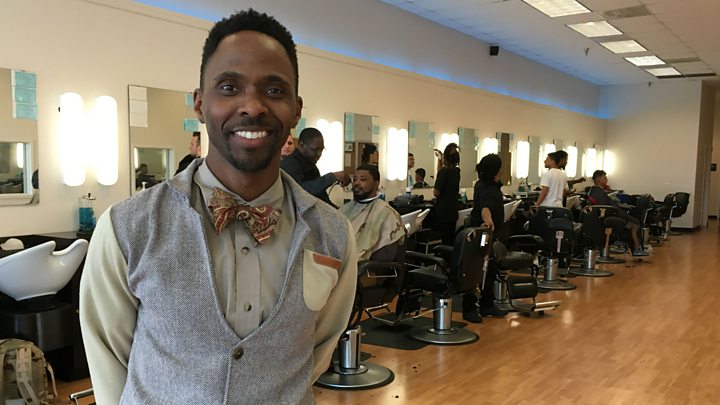 But today, co-owner Jermaine Johnson looks back on what might have been. He'd hoped an Obama presidency would do more for the economic prospects of the African American community.
No Grease campaigned for the president again in 2012 but the choice then was, in Mr Johnson's words, "Mumps or measles - and we went for measles." He is still undecided about November, but likes the presumptive Republican nominee.
"I think he gets some of things that America was built on. I can learn to disagree with some of what he says - but he has a lot of great ideas. He's the most courageous of all of them."
And, as a barber, he added, he's intrigued by what's on top of Mr Trump's head.
"I wouldn't mind pulling that combover back and letting us see what he's really got under there."
For more on this story, listen to the World Tonight on BBC Radio 4 at 22:00 on Thursday, 12 May.
You can read Jamie Coomarasamy's original 2009 report from Charlotte here.