US social media star Hayes Grier hurt in car crash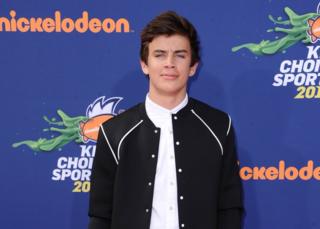 US teenage social media celebrity Hayes Grier is recovering in hospital after a car crash, his spokeswoman has said.
No other details were given about the accident involving the former Dancing with the Stars contestant, who is 16.
But his brother Nash Grier tweeted to say Hayes had suffered a concussion, two fractured ribs and a bruised lung.
News of the accident brought messages of support across social media, with the hashtag PrayForHayes trending worldwide on Twitter.
Hayes Grier appeared in the 21st edition of the ABC ballroom competition Dancing with the Stars.
He has more than 14 million followers across Facebook, Vine, Instagram and YouTube.
Variety reported recently that he was scheduled to appear in a streaming comedy series where he attempts to run his family's 19-acre farm in Moorseville, North Carolina.