Maine governor Paul LePage apologises for rude phone rant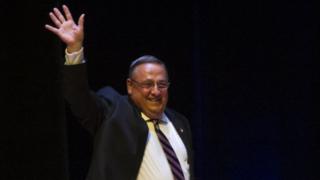 Maine's Republican governor has apologised for leaving an obscenity-laden voicemail for a rival politician.
Paul LePage told local radio he was considering "all options" when asked if he would complete his term as governor.
Mr LePage told reporters last week he would challenge Democratic lawmaker Drew Gattine to a duel and point a gun "right between his eyes."
He thought Mr Gattine had called him a racist for his remarks linking ethnic minorities to the drugs trade.
Mr Gattine denies accusing the governor of racism.
The row began following a town hall meeting in North Berwick, where LePage said he had collected a binder of photographs of drug dealers arrested in the state. He said they showed that 90% were "black and Hispanic people from Waterbury, Connecticut; the Bronx; and Brooklyn.'"
In the voicemail, he referred to the Democratic representative using a gay slur, and told him "I am after you."
Speaking to WVOM-FM radio, Mr LePage apologised to the public for the tirade, and said it was "unacceptable and totally my fault."
He said he planned to meet Mr Gattine and make amends, and will meet with friends and advisors before deciding his next course of action.
However, he declined to say whether he would finish his term, which ends in 2018. He said he still has the energy to tackle his policy issues, but if he has "lost my ability to convince the Maine people that's what we need ... maybe it is the time to move on.''