Jared Kushner: The quiet millionaire with Donald Trump's ear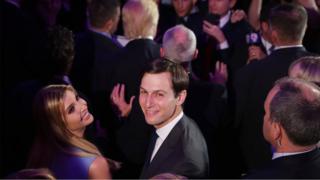 As the world waited for Donald Trump and President Obama to emerge from their meeting at the White House in November, the cameras tracked a young man strolling across the South Lawn, deep in conversation with Mr Obama's chief of staff, Denis McDonough.
Mr McDonough was briefing Jared Kushner, a softly-spoken millionaire who acts as a senior adviser to the president.
Mr Kushner, who is married to Mr Trump's daughter Ivanka, exerted a powerful influence over the Trump campaign - including digital strategy and top-level hires - and carried that clout into the White House.
Usually camera-shy and happy to operate behind the scenes, the 36-year-old is a vastly wealthy property developer and publisher who served on Mr Trump's transition team and is said to have the president's ear.
Read more
He owns 666 Fifth Avenue, a skyscraper a few blocks down from Trump Tower, and in 2006, at just 25, he bought the once-venerable New York Observer newspaper.
An Orthodox Jew whose grandparents were Holocaust survivors, Mr Kushner used an editorial in the Observer to defend Mr Trump from accusations of anti-semitism when the candidate tweeted a composite picture of Hillary Clinton, a six-pointed star said by critics to evoke a Star of David, a pile of cash, and the words: "Most corrupt candidate ever."
"People see in him what they want to see," he wrote, "if they dislike his politics, they might see other things they dislike, such as racism."
If they like his politics, they might imagine they're hearing 'dog whistles'. He will touch subjects politicians try to avoid. This is part of why he appeals to so many."
A vast inheritance, tainted by scandal
Jared Kushner was born and raised in comfort in Livingston, New Jersey, alongside two sisters and a brother. His grandparents had escaped during the war, arriving in the US in 1949, and his father Charles made his fortune as a New Jersey property mogul.
The young Jared won a place at Harvard despite poor grades, according to Daniel Golden, author of The Price of Admissions: How America's Ruling Class Buys Its Way into Elite Colleges.
The year of his admission, according to Mr Golden's book, Charles Kushner donated $2.5 million to the university, along with similar one-off donations to Cornell and Princeton.
Like Mr Trump's father Fred, also a property mogul, Kushner senior was a controversial figure.
He was jailed for tax evasion, illegal campaign contributions and witness tampering. He admitted setting up his own brother-in-law with a prostitute, secretly filming the liaison, and sending the tape to his sister in an effort to dissuade them from testifying against him.
The man who prosecuted Kushner senior was the former US Attorney for New Jersey and 2016 Republican presidential candidate Chris Christie.
Jared Kushner is reported to have been involved in counselling his father-in-law to choose Mike Pence as his running mate, over Mr Christie.
Both Mr Kushner and Mr Trump inherited vast property empires from their fathers at a relatively young age, and their apparent bond may be based in part at least on similar experiences.
Mr Trump's father, Frederick Christ Trump, was also a controversial figure who was taken to court for alleged racial discrimination in housing allocation.
Trump senior, who was vigorously defended by his son Donald at the time, settled out of court without admitting guilt.
More on Donald Trump:
Mr Kushner and President Trump also share a complete lack of political experience. In his New York Observer editorial, Mr Kushner offered a politics-as-business approach instead.
"Government is built with many layers to avoid making mistakes," he wrote. "The problem with this is that it costs a lot and little gets done. In business, we empower smart people to get jobs done and give them latitude on how to get there."
Mr Trump has praised his son-in-law for being "very good at politics" and appears to trust his judgement. When controversial campaign manager Corey Lewandowski was fired from the campaign in June 2016, it was reported that Mr Kushner, having clashed with Mr Lewandowski, had pushed for him to get the chop.
His tenure as owner of the New York Observer has not been plain sailing. He clashed with the paper's respected editor of 15 years, Peter Kaplan, who resigned three years after Mr Kushner took over, and went through six editors in seven years, before severing ties to the newspaper as he joined the White House team.
In contrast to his father-in-law, Mr Kushner is said to be a calm and composed personality, camera-shy and reluctant to be in the forefront.