Trump-Russia scandal: How did we get here?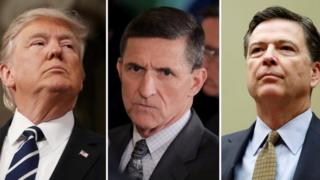 A report that Donald Trump asked FBI director James Comey to drop an inquiry into a former White House aide was just the latest twist in a row over the president's potential ties to Russia.
Cropping up throughout this political saga is Michael Flynn, the national security adviser who quit after just 23 days on the job over his Kremlin contacts.
Here's how it all unfolded:
06 June: Excerpts from Mr Comey's expected testimony to a Senate panel show he plans to say the president asked for his loyalty and to drop an inquiry into Mr Flynn. He will also back up the president's claim that the FBI chief assured him Mr Trump was not under scrutiny. Earlier in the day, James Clapper, former director of US national intelligence, called the Russia scandal bigger than Watergate.
26 May: The New York Times and the Washington Post report that Mr Kushner allegedly proposed setting up a back channel between the Kremlin and the White House through Mr Kislyak. He reportedly wanted to use Russian facilities to avoid any US interception of discussions with Moscow
17 May: Russian President Vladimir Putin offers to release a record of Mr Trump's 10 May meeting with Russian officials. Moscow maintains that Mr Trump did not pass on classified information
16 May: US media reports that Mr Comey wrote a memo about his 14 February meeting with the president, saying that Mr Trump asked him to shut down his agency's inquiry into Mr Flynn. The White House says that is "not an accurate description"
15 May: Media reports suggest Mr Trump let slip highly classified information during his meeting with the Russian Foreign Minister Sergei Lavrov and Russian envoy Sergei Kislyak
11 May: In an interview with NBC News, Mr Trump says: "When I decided to just do it [fire Mr Comey], I said to myself, I said, 'you know, this Russia thing with Trump and Russia is a made up story...'
10 May: The president meets a Russian delegation in the Oval Office and US press is excluded. A photographer for a Russian state news agency is allowed in
9 May: The president sends his bodyguard to deliver a letter to FBI HQ, informing Mr Comey that he is fired. The White House says Mr Trump fired Mr Comey on the recommendation of the deputy attorney general, who argued that Mr Comey botched an inquiry into Hillary Clinton's emails
8 May: Mr Trump meets Attorney General Jeff Sessions and Deputy Attorney General Rod Rosenstein to discuss firing Mr Comey. The president later tweets: "The Russia-Trump collusion story is a total hoax, when will this taxpayer funded charade end?"
3 May: Mr Comey testifies before a congressional panel about why he decided to re-open the Clinton investigation just days before the election. He says it makes him "mildly nauseous" to think he may have had an impact on the election
2 May: The president tweets: "FBI Director Comey was the best thing that ever happened to Hillary Clinton in that he gave her a free pass for many bad deeds!"
12 April: Mr Trump says in an interview he has "confidence" in Mr Comey
30 March: Mr Flynn's lawyer, Robert Kelner, says his client wants immunity to testify on alleged Russian election meddling. Mr Flynn "has a story to tell", but needs to guard against "unfair prosecution", Mr Kelner says in a statement
20 March: Mr Comey confirms publicly for the first time in a congressional hearing that the FBI is investigating Russia's alleged interference in the US election and that there is no evidence to support the president's wiretapping allegations
4 March: The president claims on Twitter that former President Barack Obama wiretapped his phones during the US election. A spokesman for Mr Obama denies the claim. Mr Comey reportedly asks the Justice Department to publicly reject the allegation, but no such denial is forthcoming
2 March: Attorney General Jeff Sessions recuses himself from any current or future Russia investigations after it emerges that he met Russian officials during the US election campaign, which he had not previously disclosed to Congress
16 February: Mr Trump says Mr Flynn is "a fine person" during a raucous 77-minute press conference at the White House, but that he was "not happy" with his performance
14 February: Mr Trump again meets Mr Comey. Mr Flynn, meanwhile, is under investigation for his contacts with the Russian ambassador and his business dealings with Russian and Turkish lobbyists
13 February: Mr Flynn resigns. In his resignation letter, he writes: "I inadvertently briefed the vice-president elect and others with incomplete information regarding my phone calls with the Russian ambassador"
11/12 February: Mr Flynn spends the weekend at Mar-a-Lago, Mr Trump's Florida estate, alongside the president and Japanese Prime Minister Shinzo Abe. The Trump administration faces its first international crisis: a North Korean missile launch
10 February: President Trump tells reporters aboard Air Force One he has not seen media reports about Mr Flynn: "I don't know about that. I haven't seen it"
27 January: Mr Comey and Mr Trump have dinner. Mr Trump later says that during the meal Mr Comey asked to keep his job and assured the president he was not under investigation. But Comey associates say the president asked the law enforcement chief to pledge his loyalty. Mr Comey reportedly declined to do so
26/27 January: The Justice Department contacts the top lawyer in the White House, Donald McGahn, about Mr Flynn's communications with Mr Kislyak, warning that Mr Flynn may be vulnerable to Russian blackmail.
20 January: President Trump and his executive team, including Mr Flynn, take office
15 January: Vice-President Mike Pence says, on US television network CBS, that he spoke to Mr Flynn about his phone call with the Russian envoy and asserts it had "nothing whatsoever to do with those sanctions"
6 January 2017: President-elect Trump meets Mr Comey for the first time for an intelligence briefing on a report concluding that Russia had interfered with the US election
29 December 2016: Mr Obama announces sanctions expelling 35 Russian diplomats for the country's alleged interference in the US presidential elections. On the same day, Mr Flynn holds a phone call with the Russian ambassador
28 December 2016: Mr Flynn and Mr Kislyak, exchange Christmas text messages
December 2016: White House adviser and Mr Trump's son-in-law Jared Kushner meets Russian ambassador to the US, Sergei Kislyak, at Trump Tower in New York. He also meets the head of a US-sanctioned, Russia state-owned bank
18 November 2016: Mr Flynn is announced as the next US national security adviser, despite major questions over his links to Russia. His role, as part of the president's executive office, does not require approval from the Senate
10 November 2016: Then-President Barack Obama warns newly elected President Donald Trump against hiring Mr Flynn as his national security adviser
December 2015: Michael Flynn, a retired US Army lieutenant general, is paid more than $45,000 (£35,000) by state-sponsored broadcaster Russia Today to address the network's 10th anniversary gala in Moscow